Gwenn wants to keep moving, but everything becomes blurred and, again, she feels drawn into a downward spiral.
She finds herself in her bed sweating. As on previous occasions, she is very tired and falls asleep immediately so that when the alarm rings she still wonders if she dreamed or if the events have occured. She considered asking her friend Yannick to examine her bracelet to determine its origin. But, rising, she finds that it is no longer on her wrist. So no possible proofs to prove her dreams.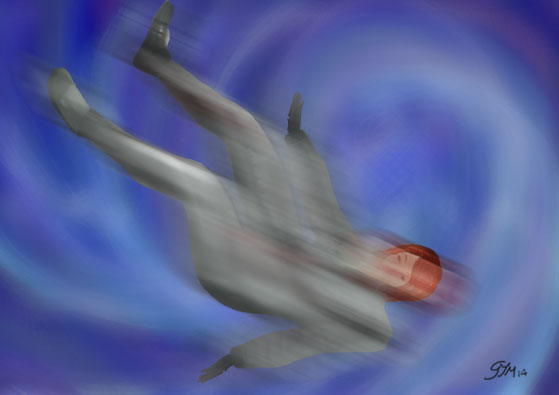 She goes back to work, concerned, she can't tell what she is going through, even her relatives would not believe her, or consider that she is tired and too absorbed by her master's thesis that needs a lot of work. Furthermore, her taste for adventure encourages her to seek an explanation for all these strange events. She is in a very special position because she would like to live normally again and yet she can't refrain from hoping that the adventure continues. The following days passed without anything happening. She wonders if her escapade on the rail displeased to her kidnappers and she fears she has no more contact with them. She promises herself that if she is again caught up in their world, she seeks to keep something that proves that another universe exists.
Three weeks passed and Gwenn has resumed a normal life and tries not to think about her old nightmares.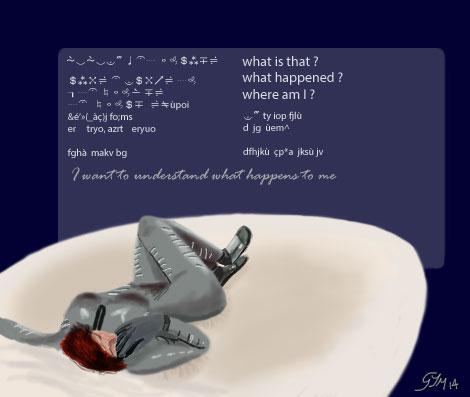 But tonight she feels a strange sensation before sleeping. She finds herself on the usual large bed, but in front of her, there is a large display board on which she realizes with horror that all her thoughts are written as soon as they are printed in her brain…