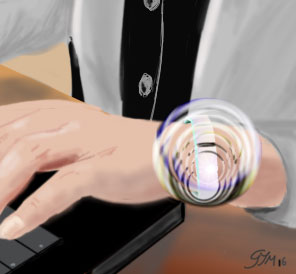 Her bracelet starts again to produce some kinds of waves. She notices that her laptop is switched on while she's not using it. Intrigued, she notices that Nano's icon is activated while it didn't work since the extraworlds departure. She hesitates and clicks on the icon.
She glimpses a man, who's moving in the street. A zoom in the image let her recognize her engineer's friend Yannick who was gone, for an internship, in a foreign country. Gwenn sees him stopping in front of the door of the building where is the office of certified public accountant she works in, but he hesitates to present himself at the reception. Gwenn really want to meet him as he could tell all that happen to him, but she doesn't move because, how can she explain that she sees him reaching the building while she is lock down in her office with the window that shows the garden. Yannick stops then watches the time and goes his way.
Gwenn is disappointed, the absence of Yannick makes her realize that a feeling deeper that she thought has developed in her for him she met in a sport hall. Indeed, Gwenn plays aikido for several years and Yannick as well, but he was also attracted to learn karate, a discipline he masters perfectly. The image of her friend disappear from her screen and Gwenn, a little sad, gets back to her work.
She is as always very busy and she almost forgets the visit of her friend when she leaves her office the evening,
when…